The Best Roland SP-404mkii Cases, Decksaver and accessories
I tested the best cases for the amazing Roland SP-404MKII sampler so you don't have to!
Note: Synth Studio is reader-supported. When you buy through links on our site, we may earn an affiliate commission.
Roland SP-404MKII (obvs!)
The Roland SP-404MKII is arguably the best sampler money can buy, even though it costs less than many competitors. I love mine—at least as much as my other grooveboxes, and I know you will, too.
Best All-Round: BAGSMART Organizer
This is what I end up using most often, and I think this is the best choice for most '404 owners. If you're looking for a bag that's affordable, fits the AC adapter, offers decent protection, has some extra storage, is compact and highly functional… look no further.
Avoid: Analog Pulse Case
Sadly, this case doesn't really fit the MKII. The interior pocket is nearly useless because anything inside can flop out. If you don't mind your AC adapter rubbing up against your SP, and having it all flop around a bit while inside the case, then go for it, I guess. Tested, but not recommended.
For a hard case that actually fits…
Modification required
Best Mod: RAIACE Hard Case
If you don't mind making a little modification, this is probably the best performing protection that's still usable day-to-day. The mods aren't hard (watch the video above), but even with the mod, this case won't fit the AC adapter.
Light modification required
Most protection: THULE Legend
If you want serious protection, buy this case and cut the included foam to fit the SP-404MKII. The downsides are that it's bulky and the carrying handle is weird (but it'll probably last forever). The AC adapter is a squeeze for this one—you have to get creative!
Decksaver
It took me awhile to understand why Decksavers even existed, but then my partner bought me one and now I have them for all my grooveboxes. They're super durable and their design and fit is just perfect when you're throwing something this expensive into a backpack. Of course, they also prevent dust from collecting on the studio shelf, but it's more the physical button, screen & knob protection that I love.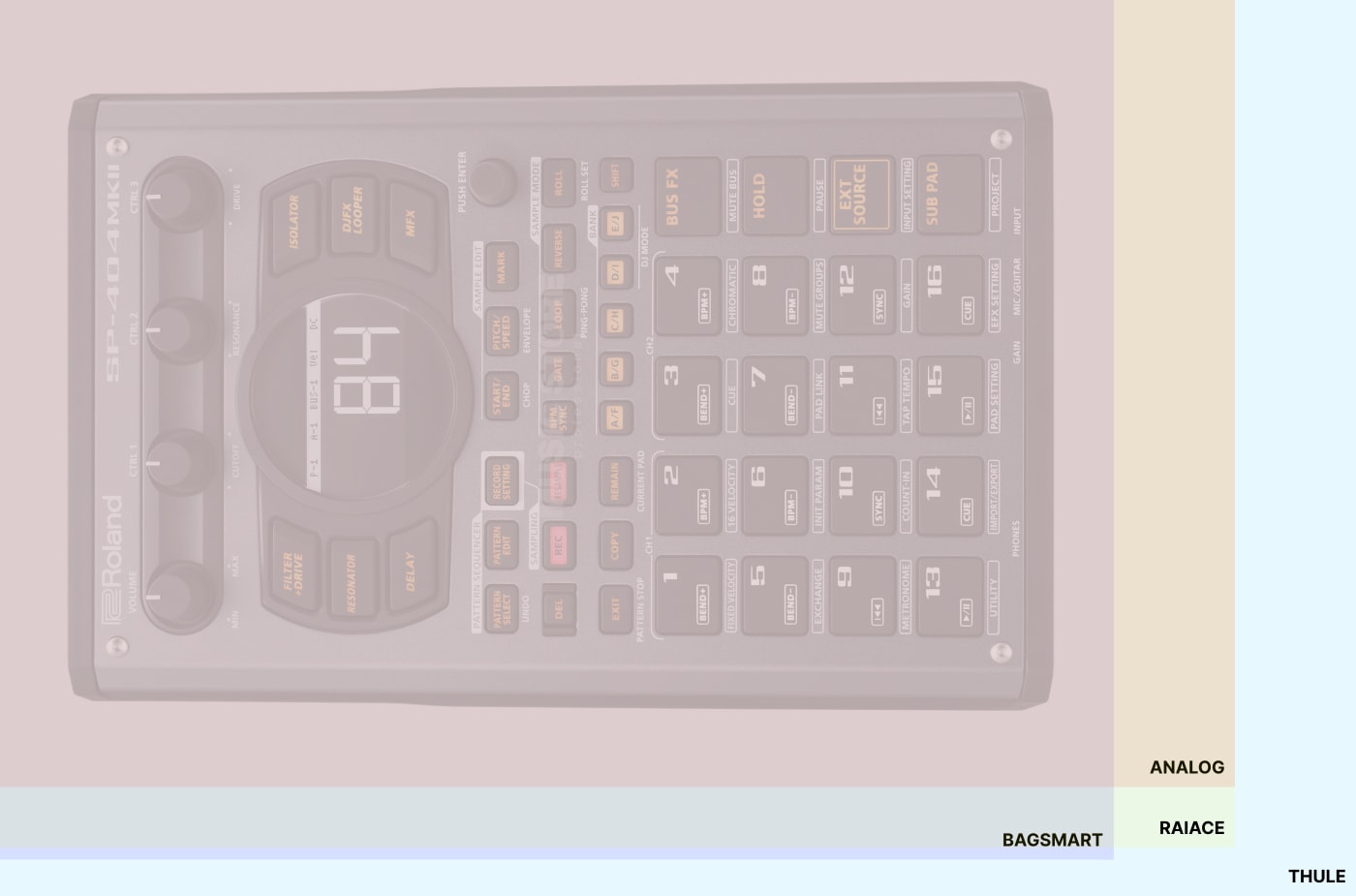 Relative Price Comparison
NOTE: These are the prices at the time of publishing, but they do tend to swing around pretty significantly! So check the links.

Headphones
These are the headphones I use. Generally, I like the big cans for when I'm at the studio mixing and mastering. But when I'm out, I like to use some smaller, high quality earbuds. Because even though you're not supposed to, I can't help but mix and master while I'm producing.
Audio-Technica ATHM50 Headphones
These cans are renowned for their unparalleled value for over-ear monitors. Their wide & flat frequency response makes them good enough for mixing, mastering and vocals. Also offered in a wireless Bluetooth version, which is what I bought so I could use them for movies & phone calls. I plug the removable cable in for music work. The slightly cheaper wired pair will also be fantastic.
1MORE Quad Driver Earphones
The cans above are bulky and draw attention at cafes. I tried the Shure SE-215's, but I didn't like their behind-the-ear fitment. I wanted something that still sounded good, but was easier to use. These quad-driver earphones are built like a tank, have an inline mic + remote, and are very portable. Their frequency response is wide & flat. They're more expensive than the Shure's, but the increased usability is worth it.